June 28 - "Knee strike. Knee strike.Jab. Hook. Uppercut,'' instructor Don Southerton barks into his headset to a rap version of "Stayin' Alive.'' Sweating profusely, the class obeys, punching invisible targets in front of their faces.

During the one-hour class about a half-dozen people beat on hand-held punching bags, kick the air and perform a
series of agonizing stomach crunches.

Sweat pours from their faces as they engage in the latest cardiovascular workout to knock out the nation.

A marriage of aerobics, boxing and martial arts, aerobic kickboxing is performed under various names, including Tae Bo, Cardio-Karate, Te-Geri, Karbo, Cardio Kickboxing, or kickboxercise - all of which add up to the same thing: the rhythmic repetition of traditional fighting.

Heralded by Muscle and Fitness magazine as a workout that burns 800
calories an hour, aerobic kickboxing is attracting scores of people from celebrities Paula Abdul, Brooke Shields and Ashley Judd to fitness enthusiasts interested in a more varied workout diet.
"I think aerobics are stupid,'' explains Karina Gedgaudas, 27, a Denver-area registered nurse who's been doing kickboxing aerobics for two years. "You're running around wearing these skimpy little
outfits. Here, you're getting in shape, learning self-defense skills, and you don't have to bounce around in tights.''
People are flocking to the sport for many reasons, including media hype. Aerobic kickboxing has been a featured activity on the popular Fox TV show "Ally McBeal,'' extolled in Vogue magazine and featured on celebrity videos. It's also being touted as a great way to increase muscle tone and flexibility, and to relieve stress.
Last year, when Lisa Tipton, 33, a district sales manager for Wilson's Leather, read about the results movie stars were getting from their kickboxing workouts, she decided to give it a try. In one year, she's dropped a dress size and lost 7 pounds.
"When you do step aerobics you don't sweat as much,'' she says. "With kickboxing, I feel like I'm getting a better workout.'' Larry Hughes, 46, owner of a snack-food business called Fun Snacks, found that in addition to dropping 10 pounds, aerobic kickboxing has helped him control his diabetes. "It's certainly made me a lot healthier,'' he says. "Endurance wise, I can pick up any activity and go on and on and on because of the endurance I've built.''
Other benefits include the stress release that comes with thrashing a punching bag. "The first time I went, I was drenched in sweat,''
explains Lori Schwartz, 35, a local writer. "I felt great because I felt like I had released so much tension. It's a big release. I think it should be in everybody's workplace.''
"The industry needed to involve adults who were not interested in traditional martial arts,'' explains John King, operations manager for the National Association of Professional Martial Artists (NAPMA)
in St. Petersburg, Fla. "There are a lot of people who aren't interested in wearing Gis, the belt system, and who don't want to ask permission to go the bathroom. They want to learn selfdefense moves but don't want to get kicked in the head to do it.''
Three years ago, NAPMA introduced its trademarked Cardio-Karate to the public. Since February 1997, they've trained 1,900 instructors to teach their interpretation of aerobic kickboxing, a combination of boxing, aerobics and basic martial arts maneuvers. Not only do aerobic kickboxing classes attract adults, some students eventually register for regular martial-arts classes.
"It's saved some of these schools,'' King explains. "The adult market was dying for attention, and it's taken off like a rocket.''
Meanwhile, in Los Angeles, former Olympian Billy Blanks devised Tae Bo aerobics, an amalgam of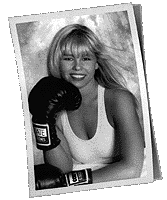 karate, kickboxing, Tae Kwon Do, ballet and hiphop - an activity that's attracted the Hollywood elite as well as a lot of press. Martial arts gyms around the country took notice and have started incorporating aerobic kickboxing programs into their schools.

Health Clubs and campus recreation centers, too, are starting to add aerobic kickboxing classes to their activity mix. The Denver Athletic Club has been offering their brand of aerobic kickboxing since 1996. The University of Colorado at Boulder Student Recreation Center offers a class called Cardio Kickbox Express.

And at the Sporting Club of Cherry Creek, Health and Fitness Director Erin Coyne just added an aerobic kickboxing class to the club's offerings because of high demand. "Summer is not a good time to start a new class,'' she says, "but we've had alot of people asking for it.''

Unlike the benign lexicon of aerobics where instructors urge participants to perform quasidance steps like "grapevines'' and "crossovers,'' the language of aerobic kickboxing is derived more from the worlds of Muhammad Ali and Chuck Norris than Bob Fosse.

"Instead of regular dance movements,'' explains Yolanda Curcio, who owns Unified Tae Kwon-Do along with her husband and
son, "you're doing martial-arts movements.''

Because aerobic kickboxing is relatively new, it has yet to see industry standardization. So each aerobic kickboxing class is a little different. None of these classes requires special equipment or the traditional martial arts uniforms, called Gis. People come wearing athletic clothes, most programs ask that students wrap their hands. Like regular aerobics programs, aerobic kickboxing is performed to music, and each class includes stretching, a warmup, lots of punching and kicking, toning exercises like situps and leg lifts, and a cooldown.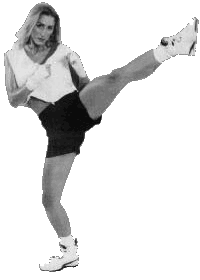 Some classes use the imposing Wavemaster punching bags so students can actually "make contact,'' while others use handheld "focus mitts'' and torsosized punching bags that students target with their blows.
Classes range in price from $3 to $8, with many schools offering discounts to people who buy 10 or more classes at a time.
While Joe Quatrochi, an associate professor of Human Performance, Sport and Leisure Studies at Metropolitan State College of Denver, sees aerobic kickboxing as a way to fight exercise boredom, he warns of the possibility for low-back injury because of the nature of some of the moves.
"I wouldn't recommend it for someone who isn't in shape at all,'' he says. "But as a crosstraining method to add to someone's regular workout, I think it's probably a good thing.''
While some traditionalists might sniff that aerobic kickboxing is "martial-arts lite,'' others embrace it as a fun exercise and an easy entre┌e into a more rigorous martial-arts practice.
"This is not martial arts,'' explains Mile High Karate's Don Southerton, a martial-arts practitioner since 1971. "This is something else. There's no bowing. No belts. No uniforms. This is a good time.''